ປ່ອຍ wifi ໃຊ້ Sim Maxis HD 920 4G LTE ໜ້າຈໍ LCD
ລາຄາຂາຍ Hotdeal:
580,000 ₭
(LAK)
580.000 ₭
ປ່ອຍ wifi ໃຊ້ Sim Maxis HD 920 4G LTE ໜ້າຈໍ LCD
Able to connect with any Wi-Fi enabled device
Supports up to 10 devices via Wi-Fi and 1 via USB cable
One-touch connection and LED indicator display
Hassle free installation, just Plug-N-Play
Friendly user interface
SIM Lock released for usage with any 4G / 3G network worldwide
Operation time up to 8 working hours*
Operation times and performance of battery may vary depending on operator network configuration, signal strength and usage.
Free sim net unitel 4G

Support
Sold by Techone

Date Join

30/11/-0001

Rating

5
ລາຍລະອຽດສິນຄ້າ
ປ່ອຍ wifi ໃຊ້ Sim Maxis HD 920 4G LTE ໜ້າຈໍ LCD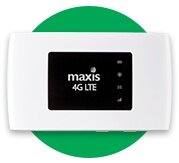 In today's fast-paced age, every bit of information is easily shared to the world through the aid of the internet and social media. Everything happens so fast that it is a vital thing to always stay connected to world. With ZTE MF920W, you can make sure you stay online 24/7, so you'll never miss out on anything.
It features an upload speed of up to 100 Mbps (Cat 3) and 50 Mbps respectively of 4G LTE data. Not only that this also supportsSPA+/HSUPA/HSDPA/UMTS and EDGE/GPRS/GSM connections.
This device can let you connect up to 10 WiFi ready devices, has an expandable storage up to 32 GB and large 2,000 mAh of battery capacity that can last up to 8 hours of surfing time and 450 hours of standby.
It also has a1.44 inch TFT colored screen that has graphics and notifications and has a dimensions of104 x 65 x 14.6 mm only.This also supportssupports Windows 10, Windows 8, Windows 7, Windows XP, Vista, Linux and Mac OS.
The modem has been tested with malaysian telco provider such as maxis, digi, celcom and umobile. Work great and support 150mbps 4g LTE advance.
ລາຍລະອຽດ
| | |
| --- | --- |
| SKU | maxis MF920 |
| Compatible with all GSM Networks | Ntel, Airtel, Etisalat, Globacom and MTN, and Smile |
| Product Specs | Wi-Fi 802.11b/g/n Built-in LTE / UMTS high gain antenna Data and SMS Service Transfer rate : Max Download 150Mbps / Max Upload 50Mbps |
| Band | 4G: LTE FDD 2600/1800/800 MHz 3G: DC-HSPA+/HSPA+/HSUPA/HSDPA/UMTS 2100/900 MHz 2G: GSM/GPRS/EDGE 1900/1800/900/850 MHz |
| Dimensions | 107.5mmx63.7x14.8(LxWxH) |
| Weight | Approximately 120g with battery System requirements: Windows XP/Vista/7/8/10 and MAC OS |
| Package | 1 x Maxis ZTE MF920W+ modem 1 x ZTE 2000mAh battery (internal) 1 x ZTE USB power adapter 1 x micro USB cable Manual & Packaging |